TOPIC CLUSTERS
THE ULTIMATE GUIDE
Topic clusters have been a big trend in SEO and as part of a content marketing strategy throughout 2022 and 23. As search engines place more emphasis on relevant and helpful content as a result of changing search behaviour, websites are implementing new ways of creating, publishing and linking related pieces of content. A topic cluster content strategy is a fantastic way to provide genuine value to your users in a search-friendly way, that allows them to dive deeper into a specific subject and builds site authority.
What is the topic cluster model?
Put simply, topic clusters are a way of creating, organising and linking content around a given theme, or topic for improved search rankings. Unlike a traditional site architecture that looks like this: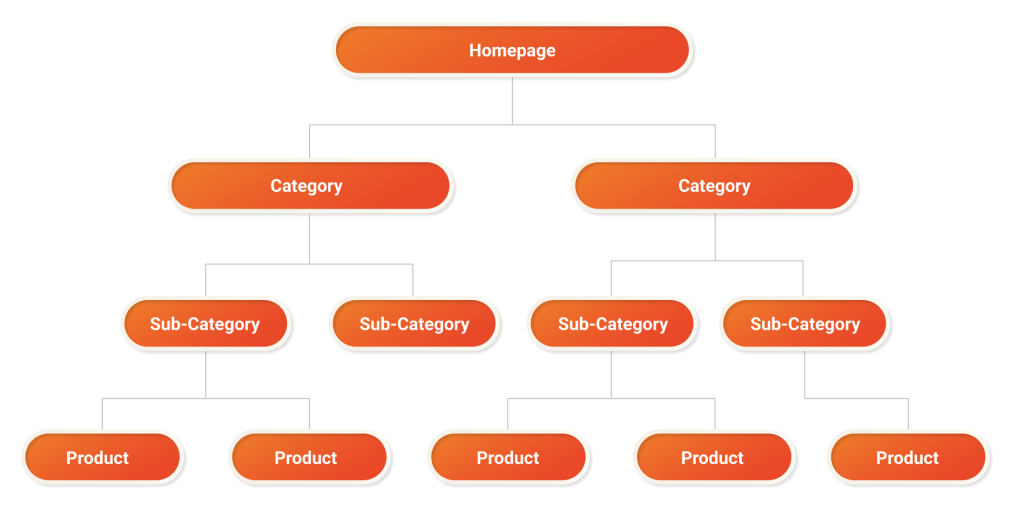 A multiple-topic cluster structure, on the other hand, look more like this: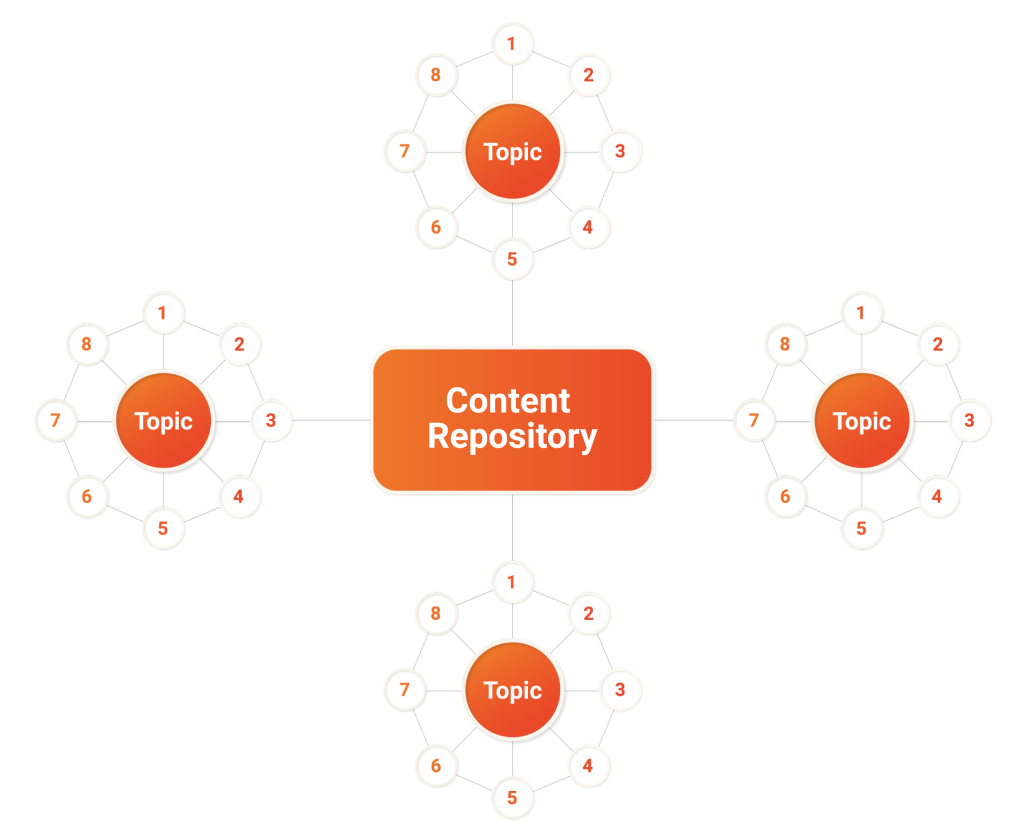 Each topic cluster has a main landing page with several related pages coming off it. Each is linked to the main hub page, but in many cases, they are also linked directly to each other, where appropriate.
The main landing page, also called a pillar page, contains your top-level information, targeted at short-tail, higher-volume and competitive keywords that outline the core topic. The topic cluster pages are those that have more in-depth information about a given question or area, that is linked to from the pillar page.
It's important that the pillar page broadly, but succinctly covers the main information about a given subject, allowing you to logically link to the related content. Depending on the overall size of the topic, pillar pages can end up being quite comprehensive. However, there are two different approaches here, each with pros and cons. Some organisations choose to have a very long, very in-depth pillar page, potentially several thousand words. Others, however, choose a more concise pillar page, with in-depth information published elsewhere.
Currently, there doesn't seem to be any indication of what is the best approach. As is often the case, it matters much more that it works for your users, rather than it is what you should do according to others. On this page, we've taken the shorter option.
The Benefits of Using Topic Clusters for SEO
One of the major benefits of topic clusters is by creating comprehensive, quality content around a given area, you will give yourself the best chance of ranking on the search engine results pages for the widest range of potential search queries, even those low-volume but super-relevant long-tail keywords. Comprehensively covering a given topic is a fantastic, long-term way to grow your Organic Search traffic.
Adopting a topic cluster strategy will also help you build authority in the eyes of your customers around a given theme. This can be a fantastic way of building long-term brand loyalty and engagement from your existing customers, as well as attracting new ones.
Topic clusters are great for SEO as they group relevant pieces of content, with related keywords, together so both users and search engines can find them easily. A well planned topic cluster has a range of content, tailored for your target audience, that matches their search intent. Also, by its very nature, a topic cluster strategy will naturally improve your internal linking.
The importance of pillar pages and content clusters for SEO strategies is clear, but it's important to note that rather than focusing solely on certain keywords (although you will do that), your focus should be on the topic. 
Step-by-Step Guide to Creating Topic Clusters
Creating topic clusters and pillar pages need not be difficult, but you'll benefit from proper planning and research to create and organise the content in a way that is useful and logical.
Begin by thinking about what you'd like to achieve, and then work backwards to determine which areas of content creation you think will resonate.Depending on your niche, these may be fairly self-explanatory. For example, if you're an installer of home renewable energy systems and you want to increase leads, consider the information your potential customers would likely need, and how you could best present this to them to encourage a conversion. Logical areas to create topic clusters about could include:

Types of renewable energy systems
Costs of purchasing and installation
Long-term cost savings and ROI
Environmental credentials
Case studies

To make this easier, use RankCaddy to help generate content ideas and inform your keyword strategy. We use AI and combine it with your own data, as well as Google data such as PAA, to generate potential content titles and concepts for exploration.
Conduct your keyword research to find all the relevant terms you wish to target. Use a tool like RankCaddy to identify if certain keywords also display SERP features such as Featured Snippets, PAA, images and videos. If they do, tailor your content to try and rank for these features.
From each of these you would publish further, detailed content to build out the cluster. Link back to the pillar page as well as any relevant, related cluster pages.
After 6-8 weeks from publishing, conduct a review of the entire cluster. Are the pages receiving traffic? What are the engagement rates like? What keywords are the pages ranking for? Have you achieved any SERP features? Are there opportunities for adding internal links?Identify where you have and haven't achieved your goals, and create a plan to update the content accordingly. Use RankCaddy's Data Dive feature to take the hassle out of identifying quick wins and actions.
Continue to research and create content to grow the cluster. You may also find that as information changes, you need to update old content.
For more information, refer to our step-by-step guide to identifying cluster topics and creating topic clusters.
Examples of Successful Topic Clusters
Many organisations and brands have embraced and implemented a topic cluster strategy. There are many examples of successful content clusters and pillar pages in different niches, such as education, health, finance, and technology. Let's explore some.
Podia: Website and community builder Podia created a fantastic topic cluster focused on creating and selling online courses.
In this example, Podia teach you everything you know about using their platform, and effectively encourages the user to convert. They've opted for a shorter pillar page, with clear in-page and side-nav links to other content. A nice touch is that they've also created a video version of this content to appeal to the widest user-base.
At the other end of the scale, HubSpot's Instagram Marketing topic cluster is built around a pillar page that is incredibly well-researched and detailed.
Each section contains multiple links to related content, and due to the length, each contains its own video summary. What's more, there's a clear navigation at the top of the page to jump to relevant sections.
Wine Folly have created a fantastic topic cluster around the subject What is Wine? While it offers many of the other elements of pillar pages and topic clusters we've discussed, there's one more thing… it looks great.
It's full of helpful images and graphics that break up the text and make it really digestible, yet still gets across all the important information that's easy to navigate.
For more examples, check out our in-depth post on topic cluster examples.
More Information About Topic Clusters
For more reading, explore our in-depth guides to topic clusters below.