Imagine you're a detective, solving a complex case.
You enter the room where all the pieces of evidence are laid out on a giant corkboard. Photos, documents, strings connecting one clue to the other – everything you need is right there in front of you, ready for analysis.
You're the master of the situation, able to see the bigger picture and follow the leads to the culprit.
Wouldn't it be incredible if SEO worked like that, too? No more fishing for scattered data from different tools and spreadsheets, no need to interpret vague signals, no unnecessary and confusing noise.
Welcome to RankCaddy.
We believe in giving you all the tools and information you need to succeed at SEO in one place. You are the SEO detective, and we've got your investigation room ready.
We are here to help if you need us – and we won't hound you with follow-ups unless you ask.
Here's what RankCaddy offers
When you're diving into SEO, it's common to have a whole host of different tools. A keyword research tool. A rank tracker. Google Search Console. Google Analytics. You know the drill.
But managing and correlating data from these disparate sources can be time-consuming and complex…
We offer a streamlined solution.
The truth is, the tools you choose to use for SEO will have some impact on your success. But what matters more is how well you understand the information they provide.
RankCaddy has been designed to allow you to spend as much time as possible focused on what really matters—understanding your data. We present all the information you need, in a unified, easy-to-understand format.
No more juggling multiple tools. No more data mismatch. Just clear, accurate, actionable insights.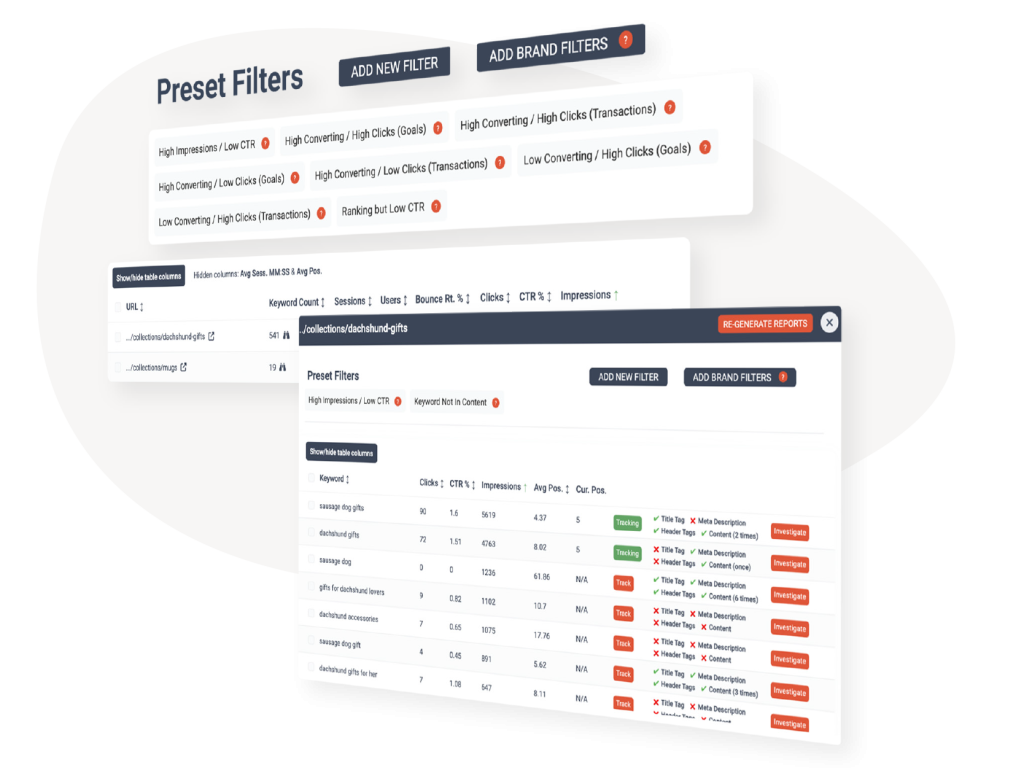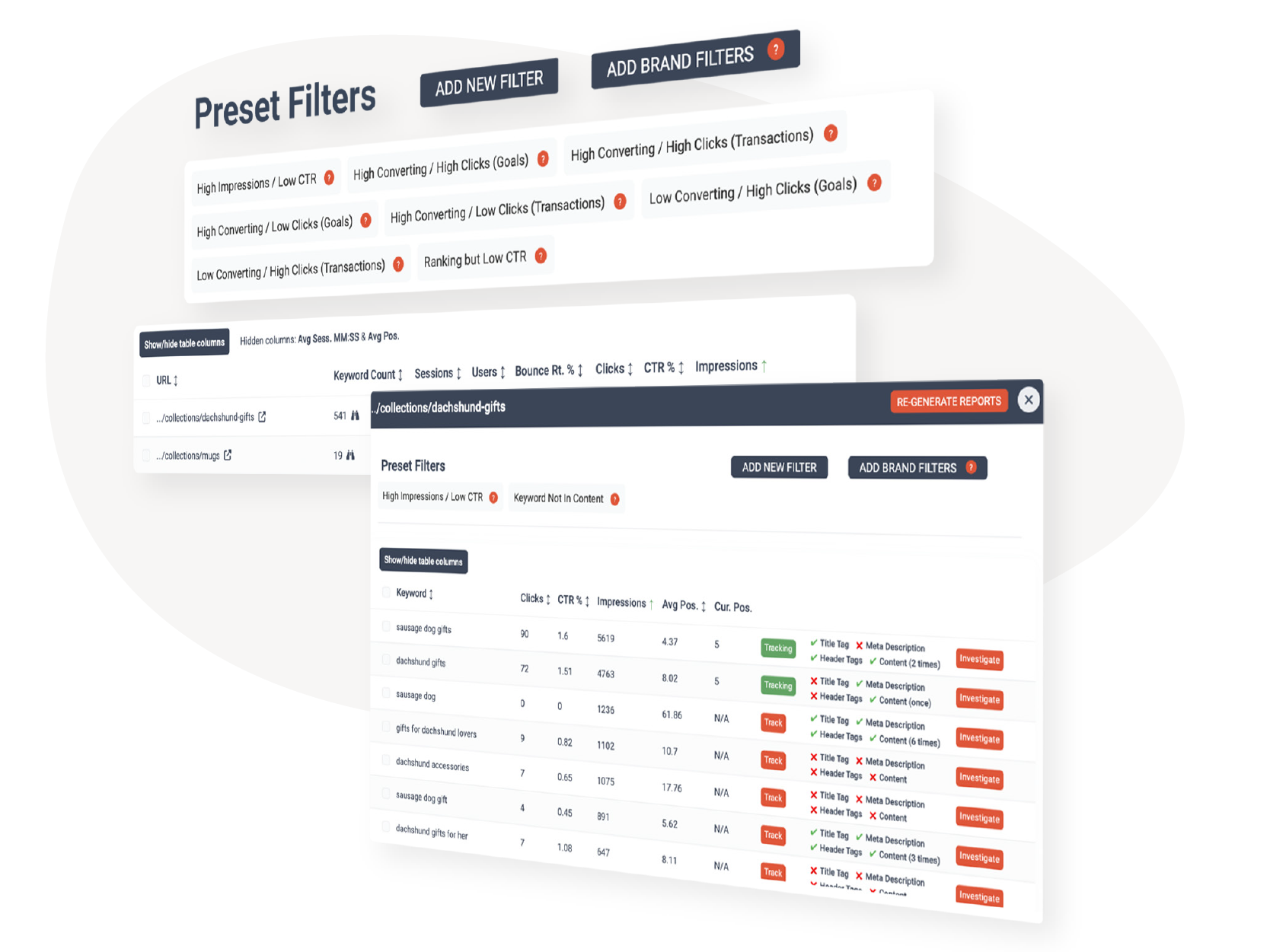 Debunking the SEO myths
A widely peddled myth in the SEO world is that top-notch SEO is a cryptic art, reserved for a handful of experts with a secret understanding of the algorithm's whims and fancies.
Bullshit.
Great SEO isn't about deciphering cryptic clues or dabbling in arcane arts. It's about clear, strategic data management and insight-driven action.
RankCaddy is here to debunk this myth. We make SEO transparent and accessible, offering all the essentials you need in a straightforward, user-friendly platform. No smoke, no mirrors, just clear insights and actionable data.
Ditch the myths, embrace clarity. SEO isn't a secret society—it's a tool for everyone.
Your SEO doesn't need to feel like a mystery
It's easy to get lost in the world of SEO, with so many factors to consider and metrics to analyse. But with RankCaddy, you won't feel like you're grappling with a giant enigma.
You'll have all the data you need at your fingertips, presented in a way that's easy to understand and act upon. SEO becomes less of a mystery and more of a manageable, even enjoyable, process.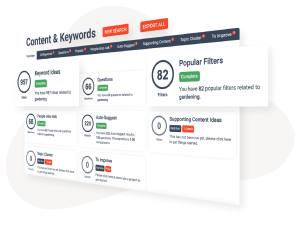 Future-Proof SEO with RankCaddy:
The world of SEO never stands still, and neither do we. RankCaddy is designed with an eye on the horizon. Our platform isn't just about addressing your SEO needs today, but about anticipating the challenges and opportunities of tomorrow.
At RankCaddy, we are continuously innovating and updating our platform to stay ahead of the SEO curve. We understand that SEO isn't a set-it-and-forget-it process, but a dynamic journey that requires constant attention and adaptability.
With RankCaddy, you're not just gaining a tool to manage your SEO tasks; you're investing in a solution that evolves with the SEO landscape. We're committed to delivering value that lasts, ensuring you're always equipped with the latest and greatest in SEO management.
Embrace the future of SEO with RankCaddy – because with us, you're always one step ahead.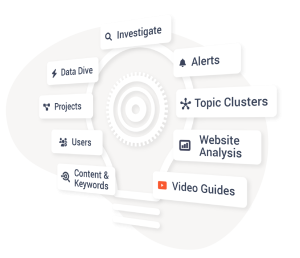 One point of contact, zero headaches
Have you ever had a problem with a tool and had to go through the rigmarole of contacting customer support, only to be bounced between different departments or even different companies? With RankCaddy, if you have a problem, you just have one point of contact.
We're here for you through email, live chat, and our tutorial videos. And we understand your needs because we specialise in SEO.
See what RankCaddy is all about
If you want to see what RankCaddy can do for you, the best way to find out is to try it. Whether you're an SEO beginner or an experienced professional, we're ready to help you take your SEO strategy to the next level.
You've come this far—let's get started, shall we? Start your free trial.
Testimonials
We've been using RankCaddy since it was released to Beta testers. Within a couple of weeks we knew we had to move all our clients over and use it as our main rank tracker. The tracker itself has so many great features that other trackers don't have and it's simple to use. The team at RankCaddy are quick to respond to any support issues and will happily take ideas for new features and improvements.
Jack Stonehouse
427 Marketing
RankCaddy is an essential piece of kit in our SEO toolbox! We were really impressed with how simple it was to use, whilst still being able to generate results that were comprehensive, but above all, data that we could easily translate into actions.
Anna-Roisin Bowles
Inter Vivos
RankCaddy is a game-changer for my SEO strategy. The insights and data it provides have helped me identify new opportunities and quickly make necessary changes. I highly recommend it to anyone looking to up their SEO game.
Michael Keane
SEO Freelancer
RankCaddy's Data Dive feature is a game-changer. I love how easy it is to find and prioritize opportunities. It also makes GSC data so much easier to view and get insights from. It's like having a team of data analysts at my fingertips.
I'm blown away by how much value RankCaddy provides for the price. The tools are comprehensive and the data is presented in a way that's easy to digest. I can't imagine doing SEO without it.