Creating a Topic Cluster Strategy
A Step by Step Guide
So by now, you should be convinced that these topic clusters sound great. I should create some of these, you might be thinking. But how do you go about doing that? Well, you're in luck. In this guide, we're going to run through a step-by-step guide to creating a topic cluster that provides value for users and generates organic traffic for your site.
If you've not done so yet, you might want to check out some of our other guides that explore some great examples of topic clusters or explain why they're so crucial for SEO.
So, let's get started with our step-by-step topic cluster guide!
How to create a comprehensive content cluster
What do you want to achieve?
The first step in the process of creating topic clusters should always be to determine what you want to achieve with your topic cluster content strategy and define your target audience. It could be to demonstrate your knowledge and expertise about a key business area of yours, to increase organic, top-of-the-funnel traffic for a given set of keywords, or to increase website conversions by creating consideration content for prospective customers.
By understanding what you want to achieve, you will be able to start researching and planning how you're going to get there. You'll also be able to set short, medium and long-term targets for your topic cluster(s), such as Increasing CR by X% or Attracting X new users.
Topic & Keyword Research
Once you've understood what you want to achieve, you can start considering which topics to cover. At this point, you don't need to start doing granular keyword research, but a tool like RankCaddy's Content & Keywords functionality will help you determine what people are searching for, as well as get supporting content, PAA and Auto-Suggest content ideas.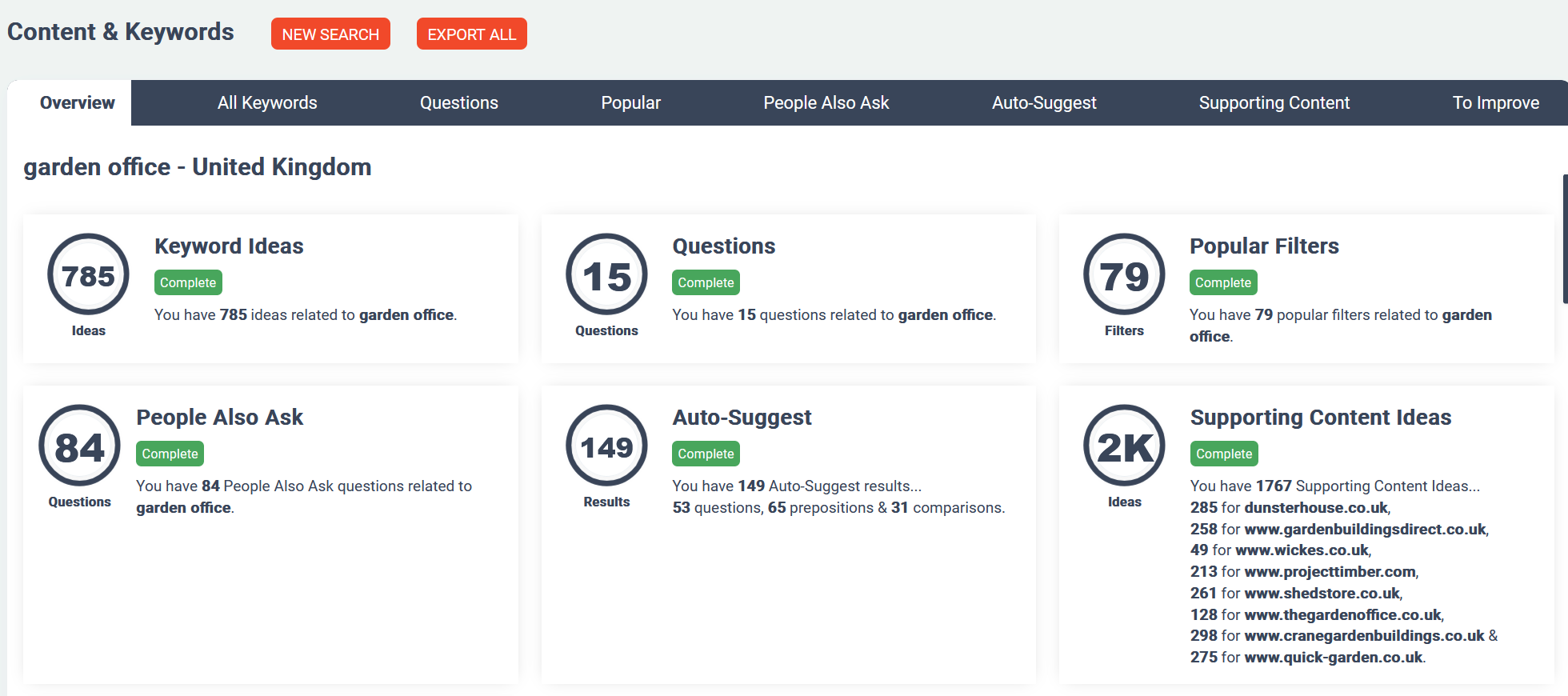 Let's say you're a company that sells garden offices and summer houses, and you want to increase conversions for your products. You've decided that the best way to do this is to create a topic cluster that's aimed at people in the middle of their purchase journey. They've already decided they want one and are researching the various types and brands that exist. You're going to give them the information they need to decide what product is best for them, and then direct them to your range.
For this, you're unlikely to need content about why garden offices are great (although you can create that too!) because they've already decided they want one. You sit down with your team and think about what sort of information people will need. This could include:
The best materials for garden offices
Types of insulation
The best sizes and shapes for a given need
Types of windows
How to power and heat a garden office or summer house
Do they need treatment or preservation?
How much are they likely to cost?
Can the user build it themselves or do they need a professional?
Do they need planning permission?
Other uses such as garden bars, home gyms etc.
It's clear that within just a few minutes, you can build quite a catalogue of content ideas. To make this easier, use RankCaddy to help generate more. We use AI and combine it with your own data, as well as Google data such as People Also Ask, to generate potential content titles and concepts for exploration. Simply click the icon next to your keyword to generate 10 title ideas

Now you have content ideas, it's time to conduct further keyword research into each one to determine what keywords people are searching for and how you can structure your content. It's important to also understand the search intent behind keywords, and only use those informational terms that will be relevant for the content you create. To help, RankCaddy shows you whether SERP features such as PAA, Video or Featured Snippets are being displayed for a given keyword, allowing you to tailor your content accordingly, as well as showing related keywords that can be included on your web pages.
It's important to note that just because some may have lower amounts of search volume than others, that doesn't make something a bad idea. For example, you might know that your customers are likely to have to make a decision or will encounter a specific problem during their build. These may have lower search volumes, but are highly relevant and creating content that addresses these will have a lot of value.
Update:
To make topic cluster ideation even easier and quicker, RankCaddy not has a Topic Clusters feature within Content and Keywords. Just choose how many ideas you want within your cluster and RankCaddy will use a blend of your keyword research ideas and AI to then plan the topic cluster for you.
Creating and publishing your topic cluster
Once you've created your content plan and done your research, it's time to create your topic cluster. Although creating the copy and any other assets such as images and videos make up the bulk of the work, it's important not to overlook things such as page design and cluster hierarchy as these all contribute to quality content.
How do you plan on displaying the content? Where are images and videos going to be on the pages? How will you interlink between pages? Where are you going to publish this on your site?
All these things can make a big difference to the usability, readability and overall usefulness of your content, and could be the difference between success and failure. The old-school way of using a whiteboard and sticky notes still works a charm. However, in the modern era of remote teams and different working hours, software like Miro or Figma can make virtual, collaborative whiteboards simple.
Publishing your topic cluster
Once the content is written and the pages are built, it's time to hit publish. At the very least, your pillar page and enough cluster pages need to be published at the same time to make the cluster feel complete to a user. Even if you know you're going to grow it over time, the user's experience is vital. We recommend waiting until you have the pillar page and about four to six cluster pages before going live.
We recommend benchmarking your visibility for target keywords and annotating your Google Analytics account on the day you publish. Promote your content in all the usual ways such as PR and social media. You could also give it an early boost by running some paid search and social ads for it.
Measuring Topic Cluster Performance
Nothing stands still, and effective content marketing should always be an iterative approach. Once published, allow your topic cluster to sit for around six to eight weeks before conducting a performance review.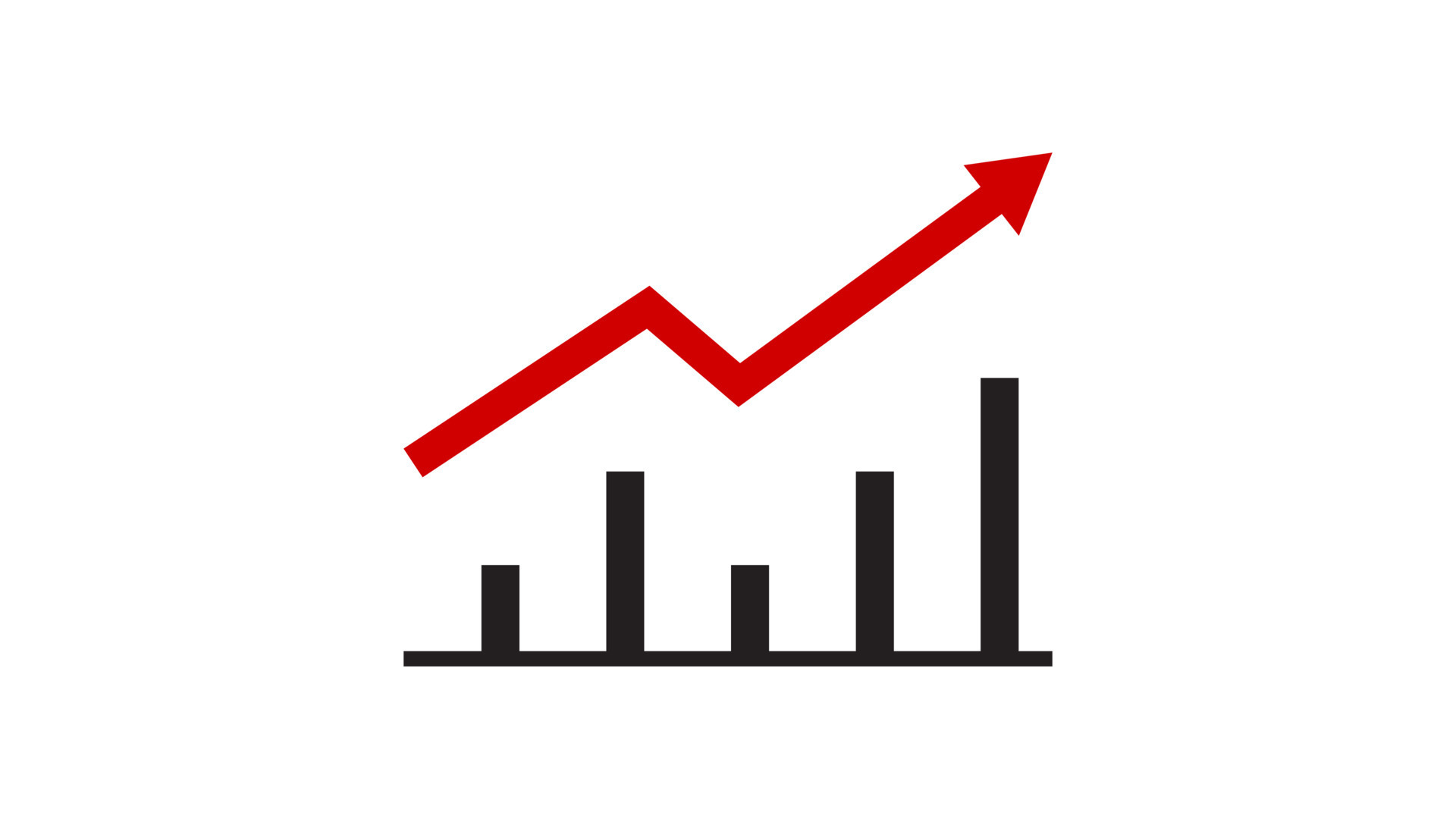 Are the pages receiving traffic? What are the engagement rates like? What keywords are the pages ranking for? Have you achieved any SERP features? Have you noticed changes in any of the KPIs you're using to measure your targets?
Identify where you have and haven't achieved your goals, and create a plan to update the content accordingly. You can use RankCaddy's Data Dive feature to identify keywords where you may be underperforming and generate actions at the click of a button to help improve them.
Learn from your successes too. Perhaps a page of content with a helpful list or an embedded video is getting much more interaction than others. You can apply your findings to other pages to improve them.
Growing Your Topic Cluster
As we've already said, nothing stands still. Although your topic cluster may be live and performing well. You should continue to research and create new content to add value for your users and to keep improving your overall authority, visibility and traffic. Undertake a content audit to identify content gaps and missed opportunities, and then carry out some further research to find related keywords.
You may also find that as information changes or events in the wider context evolve, you need to update old content for it to stay relevant and useful. In our guide to The Importance of Topic Clusters for SEO, we discuss YMYL (Your Money or Your Life) content. Say, for example, you're a financial services organisation and a piece of legislation changes. Firstly, it's vital that your site is updated to reflect that, and secondly, it presents an opportunity to create more content that explains how and why that legislation has changed, and what it means for users.